SERIES INDEX & SEARCH
ManOfSteel's work encompasses over 700 renders of David, and many of them are independent, stand-alone pieces. Some renders are part of a specific, continuing storyline. The main series that ManOfSteel wrote are linked below.
ManOfSteel frequently posted renders that dealt with a specific subject matter yet didn't necessarily have an accompanying storyline (i.e., David in Prometheus advertisements). All renders in this library have been tagged for topical searches. Use the SEARCH bar at the bottom of this page to find various topical renders.
Please contact the site curator (webmaster) with your comments, and constructive suggestions for additional subject listings. Thank you.​
—Sean Reid Scott
---
SELECTED SERIES
* This links specifically to the three-part series, The Lifeguard. To see more images that relate to David as a lifeguard (but don't belong to the series itself), click HERE.
HOLIDAYS
Here are the major holidays that ManOfSteel celebrated with David:
MAGAZINE COVERS
David was wildly popular with magazine editors. He appeared on so many magazine covers that it's hard to count!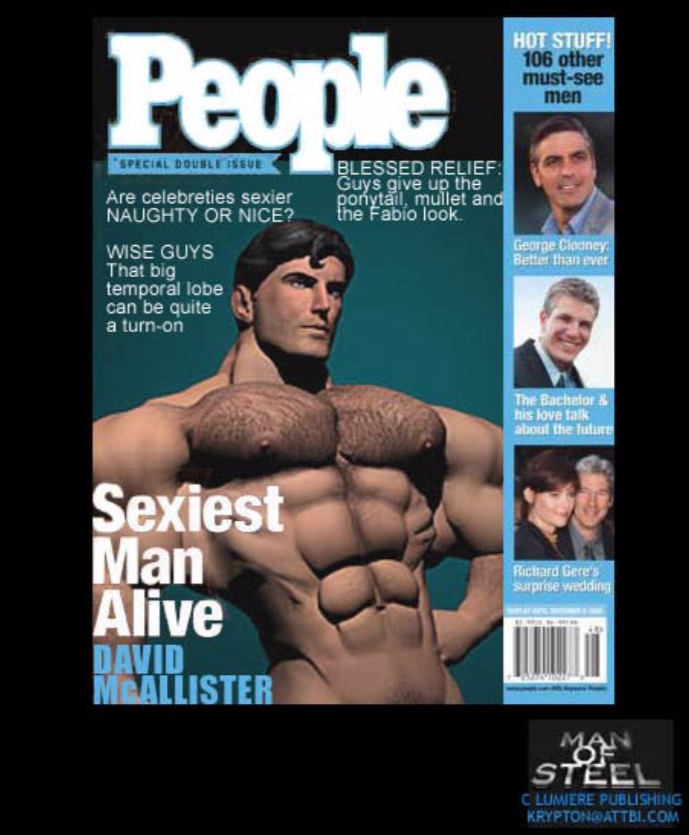 SELECTED SEARCHES
Click the links:
Advertisements, Aliens, Biceps, Blow Job, Bondage, Chest-feel, Christmas, Clothed, Construction, Cop, Ejaculate, Excelsior, Greco-Roman, Halloween, Interviews, Leather, Lifeguard, Magazine Covers, Masturbate, Muscle Worship, New Years, David in Peril, Valentines.
SUGGESTED SEARCHES
SEARCH BOX IS AT THE BOTTOM OF THE PAGE
Black & White, Bodybuilding, Chippendales, Classical, Contemplative, Cowboy, Erect, Executive, Fashion, Fucking, Gods, Gym, Harry Bush, Jock Strap, Locker Room, Logger, Love, Massage, Mechanic, Motorcycle, Playing Cards, Pool, Posers, Pre-cum, Prometheus, Sailor, Semen, Sex, Shaved, Ship, Shirt, Slave, Superhero, Taunting, Thong, Young....
SEARCHABLE TAGS IN THE GALLERIES
There are many more tags that are searchable. At the bottom of each post (after you click the "MORE" link in a gallery) a list of tags is provided. Click on those tags to see more pictures in that category. If there is no "MORE" link to a gallery picture, search for the image by name (e.g., "David 405") below. Every render has its own page (and thus, tags), even if it isn't linked in the gallery. (Although you can click on every picture in the galleries to expand it, only renders having sufficient accompanying text have a "MORE" link. Again, search below, by David number, to see any picture's page and tags.)
Please, I need your help! I enthusiastically welcome all suggestions and corrections! If I missed tagging something, or if I tagged something incorrectly, please contact me. I want this site to be the best. ManOfSteel's memory deserves no less. Afraid of being nit-picky? Faggedaboutit. I want to know, K? —Sean Scott.
SEARCH BELOW: